If you are planning on getting married, congratulations!
Our four historic churches are very beautiful places in which to be married and we would be delighted to be part of your special day. We are always so pleased when couples choose to be married in one of our churches.
You do not have to be a regular churchgoer or baptised to be married in church. If you do not live in the parish where you wish to get married, one or both of you will need to have a qualifying connection to this benefice to be married in your chosen church (see Qualifying Connection page). If you are not sure whether you do have an appropriate connection, please contact our vicar - Revd Katrina.
You can be married in church on any day (including Sundays by exception). When looking at a date to get married, there are a few other days in the year to avoid: Ash Wednesday, Holy Week (e.g. Maundy Thursday and Good Friday) and Easter Day, Christmas Eve and Christmas Day.
As well as the marriage service itself, we can offer you an excellent organist (Tony Edwards), a verger and our bells. We will help you prepare for your service, including help you choose your music, hymns and Bible readings and help you design your service sheets. In the lead up to your wedding day, you will have a rehearsal so that you can relax and enjoy your special day.
We will also advise you on where and when your Banns will need to be read and can help you with any other practical and technical details relating to getting married in church.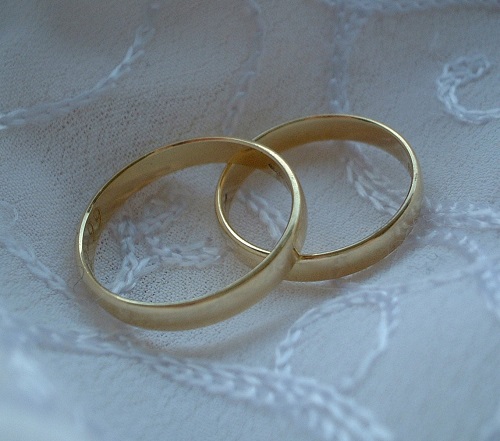 How to arrange a church wedding
If you are interested in getting married in one of our four churches (Hardwick, Mears Ashby, Overstone and Sywell), please complete the application form below or contact Revd Katrina.
If you are getting married at a different church and need your banns read, please complete this FORM and return it to Revd Katrina.
If you would like to celebrate a special wedding anniversary by renewing your wedding vows, please contact Revd Katrina.
More information
For more information on getting married in a Church of England church, please follow this LINK.
For a list of fees for church weddings, please follow this LINK.
If you want to check which is your parish church, please follow this LINK.
Set me as a seal upon your heart,
as a seal upon your arm;
for love is as strong as death.
Song of Solomon 8 (NRSV)
Start of StatCounter Code -->